Having a deck is a great way to get the family together and enjoy some time outside in a comfortable outdoor living space. Whether your deck is a place to watch birds and people from or a place to grill delicious food, the time spent out on a deck is a time where memories are made. Building memories is important, so when thinking about the types of memories that will be made, composite decking might be the style of deck that is a suitable foundation for building them.
What is Composite Decking?
Composite decking is a type of material that a deck can be built with. The most common option for deck building materials is wood. For a long time, wood was the only option out there for building a beautiful deck. Wood can have its downfalls when used as a decking material, such as continual sanding and staining. Composite decking is made from recycled plastics and wood fibers. It's molded into boards that are then used for building. There are, however, some pros and cons when it comes to making your decision about whether to choose a composite deck.
Benefits of Composite Decking
Low Maintenance: Due to being made of recycled materials, there is no need to sand or stain the deck materials. A light scrub with mild soap and water periodically is most of the maintenance needed.
​Longer Lasting: Because of the synthetic make-up of composite decking, if it's properly installed, the boards will not be prone to insect damage, rot, splitting, cracking or warping.
​Hidden Fasteners: The hidden fastening system used to put composite decking together allows for a more seamless design.
​Intricate Designs: Composite decking can be molded or bent into unique shapes that allow for a complicated design pattern to be built right into the deck
​Less Fading: Wood decks will fade greatly to that greyish color that weathered wood acquires. Composite decks will fade minimally for the first few months that it's exposed to the elements and then it will maintain the same bold color.
​Adds Value to the Home: While any deck that is built will increase the value of a home, composite decking often comes with a 25 year to limited lifetime warranty. Often this warranty can be transferred to a new owner if the house is sold.
​Environmentally Friendly: Building a composite deck is a great way to be eco-friendly. Instead of using trees that have been cut to build a deck, recycled materials are utilized to their fullest potential.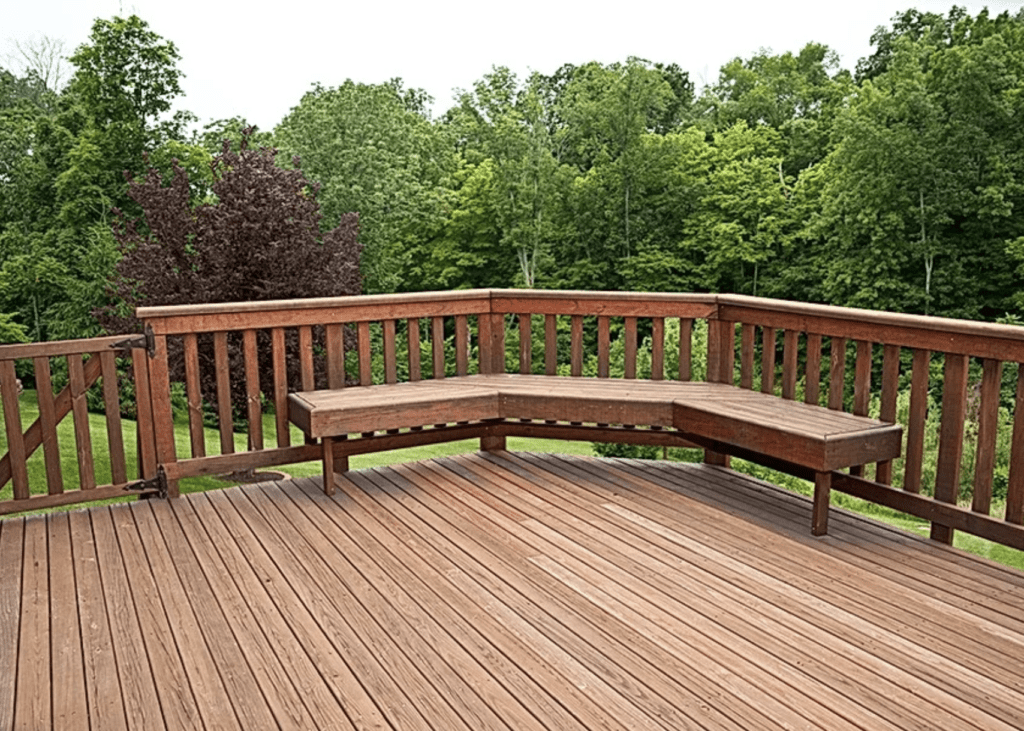 Drawbacks of Composite Decking
​Cost: The price of composite decking is a little higher than the price of wood per foot, but the low maintenance oftentimes makes up for the difference.
​Appearance: Since composite decking is made of synthetic materials it doesn't look like a wooden deck. It often has the wood grain appearance, but at a closer inspection, it's easy to tell that a composite deck is just that. They don't have the right look or feel to be wood.
​Easily Scratched or Scuffed: Composite deck can be scratched or scuffed when moving things around on it. They also stain easier than their wood counterpart. Light scratches will fade over time, but deep scratches or burns will require replacement.
​Choosing the right deck is a personal experience. It all depends on aesthetics, price and maintenance. A composite deck can look stunning in comparison to a wood deck, but the reverse can also be said. Knowing about the options is a good start to choosing which material works best in each situation. If you are thinking about getting a new deck contact Weather-Tite Exterior today to learn all about our decking options.