Vinyl siding is plastic exterior siding for houses and small apartment buildings. It is used for decoration and weatherproofing, imitating wood clapboard, board and batten or shakes, and used instead of other materials such as aluminum or fiber cement siding. It is an engineered product that is manufactured primarily from polyvinyl chloride (PVC) resin. 
​Approximately 80 percent of its weight is PVC resin, with the remaining 20 percent being ingredients that impart color, opacity, gloss, impact resistance, flexibility, and durability.
There are many different vinyl siding options available. Vinyl siding is made to look just like real wood siding and just about any real wood siding is reproduced now in vinyl.  You can get the vinyl siding in almost any color, or texture, from smooth lap to rugged look of real hand-carved cedar boards.  
​When you hear people say 'vinyl siding styles', they are usually talking about the different looks of the actual siding panels. Each panel has different:
​profiles
textures
colors
thicknesses
lengths (how long the planks are) 
and prices
Save money on your energy costs all year long by investing in insulated Vinyl Siding.  It cools in the summer and keeps the house warm in the winter. it is more expensive but well worth the cost.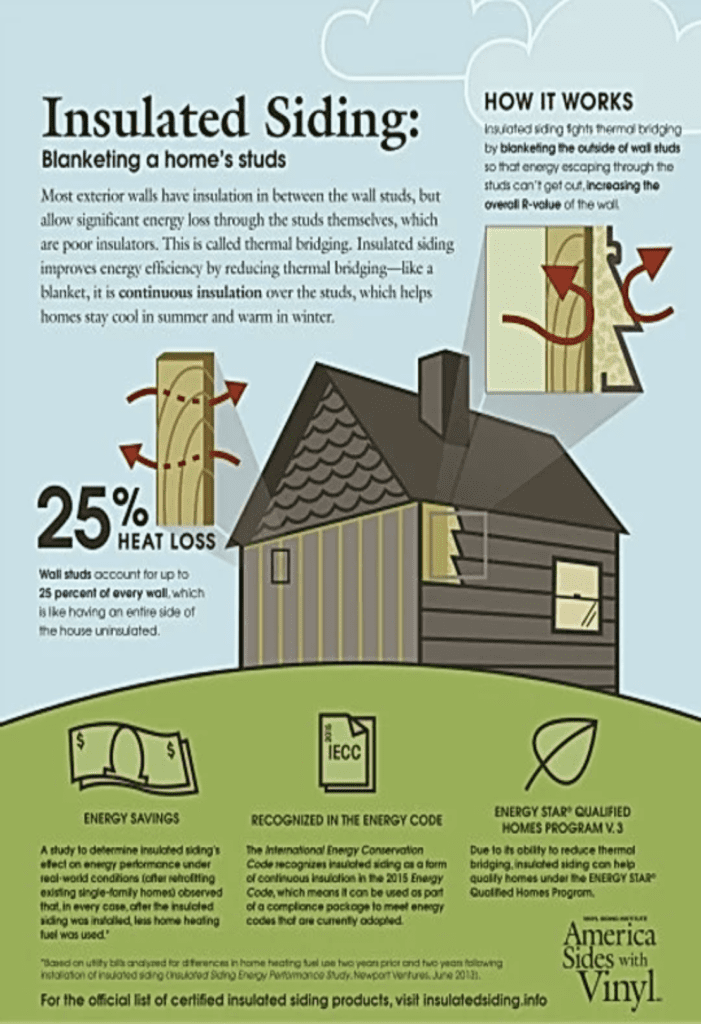 Pros – It is often said that vinyl siding is permanent because it typically will last a very long time. Titanium dioxide is often added to the chemical mixture to block UV rays, which deteriorated older vinyl siding. Consumers can purchase different grades of vinyl, both recycled and what is called "virgin," and different thicknesses are available in both. Like any plastic product, a good quality vinyl siding can be everlasting to the point of indestructible, but only as long as it is well-maintained.
​Cons – The way vinyl siding is hung also affects its durability—because it expands, it must be hung loosely. But if it's too loose, wind can get underneath the thin sheets of vinyl siding and lift a panel from the wall. Windblown debris and strong hail can puncture vinyl. New developments have made vinyl stronger and less brittle, but the plastic sheets will still crack or break if struck or pulled at. While vinyl siding overall tends to be cheaper than other types of siding, the multitude of options and choices offered today can make vinyl siding more expensive. It's not always the lowest-cost alternative to exterior siding.
Pros – Wood must be painted or stained—vinyl requires no paint. Most can be painted, however Vinyl siding's through-body color never needs repainting. It is not exactly true to say that vinyl is maintenance-free. To maintain its fresh appearance, vinyl siding should be washed every year. Any non-vinyl elements, such as window sashes and trim, will still require routine painting, and ladders leaning against the house can scuff or crack the vinyl siding.
​Cons – Unlike wood and masonry, vinyl siding presents its own breed of maintenance worries. While proper installation should guard against moisture becoming trapped beneath the vinyl siding if this does happen it will accelerate rot, promote mold and mildew, and invite insect infestations.
Pros – Vinyl is available in more colors than ever before, and new vinyl siding does not fade as quickly as older vinyl. Also, the pigmentation is baked-in rather than applied to the surface, so vinyl won't show scratches. Before purchasing the siding, look at both sides of the siding, especially recycled products, to ensure that the color is not simply on one surface.
​Cons – Depending on the quality of vinyl you buy, expect some fading after five years or so. Time and weather will also alter the gloss of your vinyl siding. If a panel is damaged, the new replacement panel might not be an exact match.
After you have lived in your home for a number of years, you may grow weary of its color, especially if the vinyl has grown dim and faded. Vinyl siding can be painted but this is not a common practice. In general, the color of your vinyl house is the color it will always be until you install new siding.
Pros – As the quality and variety of vinyl improve, acceptance is growing. More and more new homes in the United States are finished with a vinyl veneer. Vinyl can give a ramshackle eyesore a new, clean look, hiding whatever is underneath it.
​Vinyl siding consistently holds decent resale value. According to the Remodeling 2020 Cost vs. Value Report, to date, vinyl siding returns 74.7-percent of its cost upon sale—only 3-percent less than fiber-cement siding.
​So, for some types of homes or for neglected or derelict homes, vinyl siding is a clear positive. The cost of the vinyl siding will be lower than the cost of properly rehabilitating the existing siding, leading to an overall increase in property value.
​Cons – Removing the vinyl siding from a historically significant home such as a Victorian-era home or a Craftsman bungalow from the early 20th century often may increase the home's value. Restoration of historic American dwellings to their original workmanship will certainly increase a home's aesthetic value. On the other hand, vinyl is not the siding of choice for upscale, architect-designed homes. Some home shoppers may perceive vinyl as a cover-up for possible problems, or at the very least, a low-budget solution.