As a business owner, you're juggling many different tasks in a day, so dealing with a leaking roof isn't something you want to handle. However, it's something that can put a damper on your business. Leaks can damage your inventory. Water damage to your equipment can lead to increased repair and replacement costs as well as downtime for your employees when you're paying them, but they can't work as the equipment isn't able to work. Plus, leaks can be a safety hazard if your staff or customers slip and fall.
Is a New Low Slope Roof Needed?
​
If you're dealing with leaks, then you probably already know that a new roof should be in your near future, but what if it hasn't gotten to that point yet? Should you wait until your roof is leaking to have it replaced? The short answer to that roof question is no. You don't want to have an actual leak before thinking about your roof. Some signs that your roof is toward the ends of its useful life:
It starts to have water pooling after the rain that doesn't drain right away.
You can see visible damage to the roof, such as tears in the material.
Your roof needs to be repaired often.
When your roof is older than the life expectancy of the materials used.
​Still not sure? It can be a good idea to have your roof expected by the professionals. They can inspect your roof and provide you with a report on how your roof is holding up.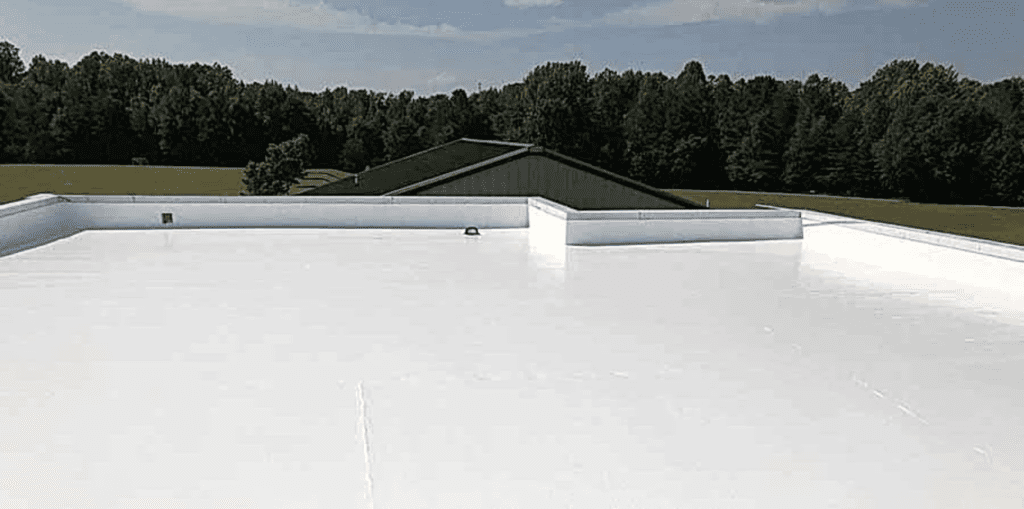 What is a low slope roof?
A low slope roof is one that has a very little pitch to it. It means that the roof is either completely flat or almost flat. Due to this pitch being so slight, you cannot put shingles on it. Shingles need more of a steeper slope to work correctly, which is why manufacturers won't let shingles be used if the surface is flatter. They wouldn't guarantee the shingle roof can stand up to the weather properly or drain right, so that means for your low slope roof, you'll have to look at different options.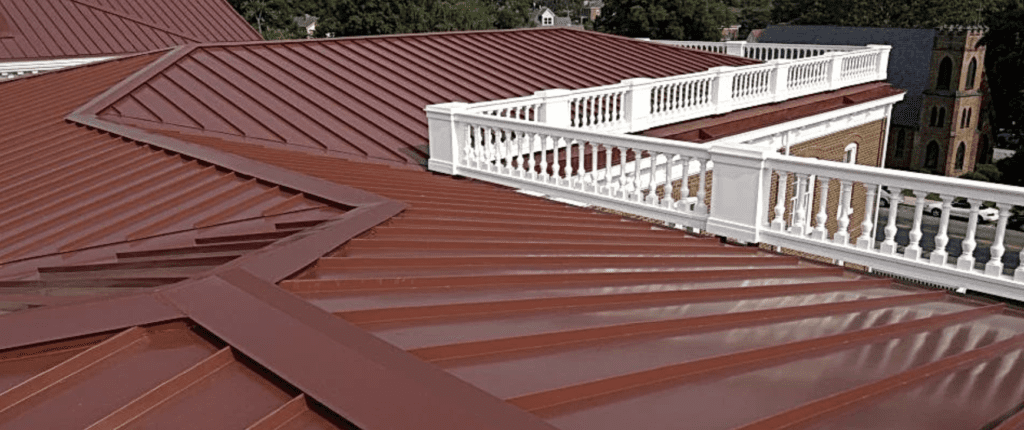 Low Slope Roof Options
There are several low-slope roof options that you can choose from when having your building's roof replaced. Some of your options include:
Membrane roof systems
Metal roofs
Spray foam roof systems
Each of these systems is a bit different regarding how they are installed, along with their pros and cons for your particular building. However, there is one thing all of these systems have in common. The different layers are used to construct them. For example, every low slope roof option will have a top surface that protects the roof from things like hail, a reinforcement layer that helps to provide support and stability to the roof, and a waterproofing layer that delivers the water protection that you need from a roof.
​Have you noticed problems with your current roof or know that it's time to be replaced? Sick of having to dodge the leaks or worried about a leak forming over your inventory or expensive machinery? It's time to invest in a low-slope roof for your business. Contact us to learn more about your options for roofing and the costs involved in your specific project. Get back to handling your business without worrying about your roof.
Low slope roof advantages
Low slope roof disadvantages
A low-slope roof will allow the snow and rain to remain on the surface longer than a high pitch roof, where it slides off easier. This pooling can result in the material wearing quicker than the material on a more prominent sloped roof. These roofs need to be maintained to help prevent leaks from occurring over time.
As a low-slope roof allows water and snow to sit for more extended periods, some roofing materials, such as shingles, are not recommended for these roofs. Unfortunately, that means you'll be more limited in the type of material used on your roof. But, again, speaking with the professionals at Weather-Tite Exteriors is the best way to learn more about your options, such as metal roofs.
A low-slope roof can also result in debris building up on the roof. These materials need to be removed regularly to help keep your roof in the best condition possible. Allowing debris to remain for a long time can also result in wear and tear on the material used.
 
Want to learn more about low slope roofs and whether it's suitable for your addition or new home? Contact our professional staff to have your questions answered. We can help you to find the right roof from pitch to material for your home.   
Low slope roof frequently asked questions
When you hear the words low slope or no slope roofs, it's perfectly normal to wonder what slope these types of roofs typically have to them. The term flat roof can be deceiving as most roofs have some slope to them even if it's hard to see. The minimum slope on a low-slope roof is 2% or ¼ to 12. The most significant slope for a low-slope roof is 3 to 12. These numbers mean that a roof goes up 1/4 inch vertically per 12 inches horizontally on the low side, while the most significant slope is up 3 inches vertically per 12 inches.
One of the concerns that business owners and homeowners have regarding low-slope roofs is how they will perform in the winter months. The truth of the matter is that they can be just as good as roofs with steeper slopes in the winter months as long as your roof is maintained and properly installed. Since you don't have gravity's assistance in cleaning off snow from your roof, it's essential to have a game plan in place in case you need to remove the snow. It can be crucial to know how much snow your roof can safely handle at a time, and if it gets above that amount, use snow rakes or other methods of removing the snow to protect your roof. Ice dams are another common concern when it comes to low-slope and flat roofs. If your roof is not adequately insulated or the weather conditions are just right, you can have the snow on your roof melt and then reform into ice dams along the edges. The best way to prevent ice dams is to ensure that your roof is adequately insulated. There are also ice dam prevention systems that can be installed that help keeps the cooler areas of the roof warm to prevent ice from forming.
There are several different kinds of commercial roofs. These include shingle roofing, metal roofing, green roofing, BUR membrane roofing, spray-on silicone, thermoplastic roof membranes, and the thermoset roof membrane.
Shingle roofing is typically what you see on homes, but it can also be used for some commercial buildings based on the slope.
Metal roofs are very durable, with metal shaped to look like shingles.
Green roofs are unique tiles filled with greenery and plants that can help with air quality and provide a green space for those in the building and the ecosystem. This roofing type is rarer than many of the other types but is becoming more popular in some areas.
BUR membrane roofs are also known as built-up membrane roofing systems and consist of layers of material to protect the building.
Spray-on silicone roofs are created by spraying a material down that hardens overtime to complete the roofing surface.
Thermoplastic roof membranes are TPO or PVC roofing systems that are glued or torched down to create the roof.
Finally, a Thermoset roof membrane is a rubber material that's applied to the roof. 
Each of these materials has pros and cons. When determining the best commercial roof for your building, it's a good idea to consult with professionals. For instance, a low pitch roof shouldn't have shingles installed on them. ​​​​​