Roofing Material and Pricing Guide for Homes
Whether you just bought a new house and the roof is bad or you've lived in your home for a while and the time has come to do something about that roof, there are a few things to know before you begin the process of buying a new roof. 
A large part of what type of roofing you'll choose depends on what kind of house you have. A traditional colonial or cottage-style house will most likely have asphalt shingles, whereas a Spanish-style house has clay or concrete tiles. It's also vital to determine your budget for a roof replacement and determine the average cost for any material you are considering. Let's look at some of the most common roofing materials and the average price for each of them.
Asphalt Roofing
Composite Roofing
Metal Roofing
Wood Roofing
Slate Roofing
Concrete and Clay Tile
Asphalt Roofing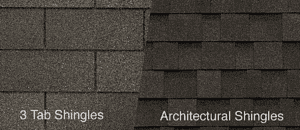 This type of roofing material is one of the most commonly seen in residential neighborhoods and comes in two different styles: 3-tab and architectural shingles.
3 Tab Shingles – This type of shingle is characterized as an asphalt sheet that has three cutouts or tabs all along one edge. Once installed, they look like individual shingles even though there are three on every sheet.

Architectural Shingles – These shingles are designed to have a dimensional and contoured look thanks to an additional layer of asphalt laminated to the bottom. Once installed architectural shingles have a unique look that many homeowners prefer.
Composite Roofing
Metal Roofing
Wood Roofing
Slate Roofing
Concrete and Clay Tile
Pricing
When it comes to pricing, the standard is by 100 square foot sections, called squares. Every 10ft by 10ft section is measured as a square. There are several factors that go into determining the final cost of a roofing project.
Material Cost – Each type of material has its own price category per square.
Roof Type – How many stories a house has, the slope of the roof, vent pipes, intersecting roofline, turrets, and skylights all add a little extra to the cost.
Labor – The cost of hiring someone to do the work and install the roof costs about the same as the labor cost. If you double the cost of the material, that is approximately what you will pay for materials and labor. 
Whether you are deciding what roofing material is right for your home based on durability, aesthetics, or budget Weather-Tite Exteriors' experienced team is happy to answer any of your questions. We also offer a free price estimate for anyone considering getting a new roof for their residential or commercial residents. Contact us today to schedule a free consultation.  
Roofing Frequently Asked Questions
Any leak in your roof needs to be fixed immediately in order to prevent future damage from being caused. However, a leaky roof doesn't always warrant a complete replacement. Some leaks can be minor and fixed with basic patchwork, it really depends on how much damage was caused by the leak. That is why it is so important to get it fixed as fast as you can. In this situation, the best course of action is to have a trusted roofing professional examine your property and give you a thorough inspection. If this is the case, you can always call Weather Tite Exteriors for a free consultation.
Roofing projects are something you can do by yourself as a DIY project, but if you choose to go this route, do it with caution. Your roof is vital to the health of your home's structure and internal condition. Any flaw in the construction can lead to significant problems down the line that you will have to hire a professional to fix or redo. This can cost twice as much money as it would have cost if you would have just hired a professional initially. 
You will want to consider what type of material is best for you. You will want to consider what is more important for your project the aesthetic appeal, the durability, or the cost. From there, you should do your research; you can review the resources we have on this site, such as the asphalt roofing, metal roofing, or composite roofing page. Or you can contact us at any time with any questions you have about any materials you might be considering.
Then you will want to consider is the architectural style of your home. If you have more valleys, angles, and hard-to-get spots, the more the project will cost you.